Fluency News #13 – How is the "Shein" clothing brand really pronounced?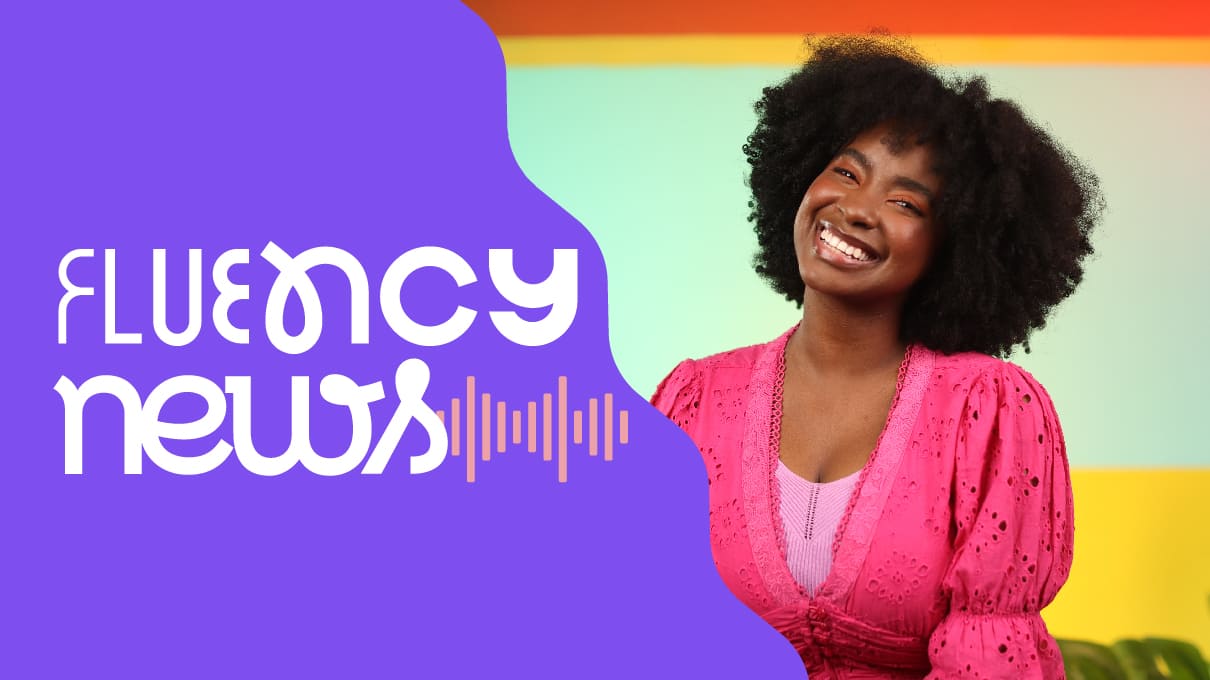 Podcast
Welcome to another episode of Fluency News!
5 minutos
Fluency English
Hello everyone!
Welcome to another episode of Fluency News! Here, you'll practice your listening and get informed on all that's happening in the world; all the major headlines of the week, all in English! During the episode, we make sure to explain the things that we believe need extra attention, so you don't miss any details!
In this episode we'll talk about business news! Online fashion giant Shein jumps onto online resale, Facebook's parent company Meta lays off 13% of staff and YouTube's new 'Live Q&A'.
We have an Instagram page with English tips, go check it out! @fluencytvenglish
We'll have a new episode of Fluency News every week, don't forget to listen! See you!
Transcrição do episódio
Hey, everyone, welcome back to one more episode of Fluency News, your podcast for news in English about what's going on around the world, so you can practice your comprehension while you learn tons of new English vocabulary and expressions. I'm Taylah Martin and I'll be your host today.
Before we get started, what other ways have you found to practice your English? Are you following us on Instagram and TikTok? Some of the best teachers on the Internet and I are always on there giving you fun and easy English tips every day! We teach you real English, from real life. So make sure to follow us at @fluncytvenglish!
‍Now, let's get this show on the road!
Everybody loves buying new clothes and staying fashionable, right? Shein, a fast-fashion clothing brand does everything it can to always be on trend, and this story will prove it.
The clothing site Shein noticed that people were selling their items in other marketplace forums. In response, the Chinese retailer is proposing a new way of re-selling: it launched its own resale platform, Shein Exchange. A company press release shared that now Shein customers in the US can buy and sell previously owned items via the existing Shein mobile app. Shein Exchange is currently available just for shoppers in the US, with plans to expand globally next year.
Alright. So, first of all let's talk about how to really pronounce the name of this brand. I know many of us had no idea this was the correct way to say it, but the right way is: SHE-in. SHE-in. In 2012, the creator of the brand registered the store's first name, which was "She Inside". It was supposed to be a pun on "See Inside". But this name only lasted three years, until international expansion of the online store led to shortening it. Thus the name Shein, by which the brand is known today, was born in 2015 . Pretty cool, huh? I guess that makes it easier for us to remember how to pronounce it now.
Now, you heard me saying that Shein is a retailer. That means they sell goods to the public for use or consumption rather than for resale. But as we heard, they have just launched a new online peer-to-peer resale platform to buy and sell previously owned Shein products. So now  people will also be able to sell clothes and accessories they don't use anymore on the platform. How cool is that?
Our next story is about Meta, better known as Facebook by some of us. The CEO of the company said they will cut 13% of its staff — more than 11,000 people — in an effort to withstand any further downturn in the economy. This will be the biggest round of layoffs in Meta's history, and it highlights the financial pressure the tech giant is under as it tries to pivot its business. The reasons are many, but one caught my attention: Meta has lost over 70% of its value this year. Big numbers, right? Meta is just one of many tech companies that have announced steep layoffs recently to withstand the economic pullback. Snap, Salesforce and Twitter have also recently shed large numbers of staff.
Oh no, cutting 13% of its staff? That's not the best news. Staff means all the people working for the company. It's different from the word "employees". Employees are people who are being paid wages or salary by their employer whereas staff are not necessarily under contract. Staff includes contractors, freelancers and volunteers, and only employees have legal status.
Another interesting word is "layoff". Layoff means to end a worker's job, when the worker has done nothing wrong. It's different from getting fired. Being fired means that the company ended your employment for reasons specific to you, something that was your fault. Being laid off is the result of a business decision made by the company and is not the fault of the employee. 
Now, don't you love watching lives on YouTube? If so, you're definitely gonna like this next story: YouTube is introducing a new "Live Q&A" feature that is designed to make it easier for creators to interact with viewers during live streams. It will make creators' lives much easier, because when they start a Q&A, the prompt will appear as a pinned message in the chat. Viewers can then submit their questions and creators can select one and pin it, so viewers know what the creator is responding to. YouTube says that questions will be ordered chronologically, with the ones submitted first appearing at the top. 
How cool is that?! A Live Q&A feature! Q&A is short for "question and answer", meaning that the questions will be asked by the public and the creator is going to answer these questions live.
Did you know that we have live classes on our YouTube page all the time? Our channel is Fluency TV English, follow us there and maybe next time I can answer some of your questions live!
That's it for today, guys. Thank you for listening 'til the end of the episode. I really appreciate you being here with me! And don't forget that we're always adding plenty of new content on our social media. Follow us at @fluencytvenglish and keep up with our next live classes on YouTube. See ya!
___
Stories:
Online fashion giant Shein jumps into online resale
https://www.retaildive.com/news/shein-launches-resale/634254/?utm_source=thenewscc&utm_medium=email&utm_campaign=referral
Facebook parent Meta laying off 13% of staff
https://www.axios.com/2022/11/09/facebook-meta-layoffs?utm_source=thenewscc&utm_medium=email&utm_campaign=referral
YouTube's new 'Live Q&A'
https://techcrunch.com/2022/11/11/youtubes-new-live-qa-feature-makes-it-easier-to-manage-questions-during-livestreams/?utm_source=newsletter&utm_id=thebizness&utm_content=15_11