Fluency News #15 – How to get a €200 voucher on your birthday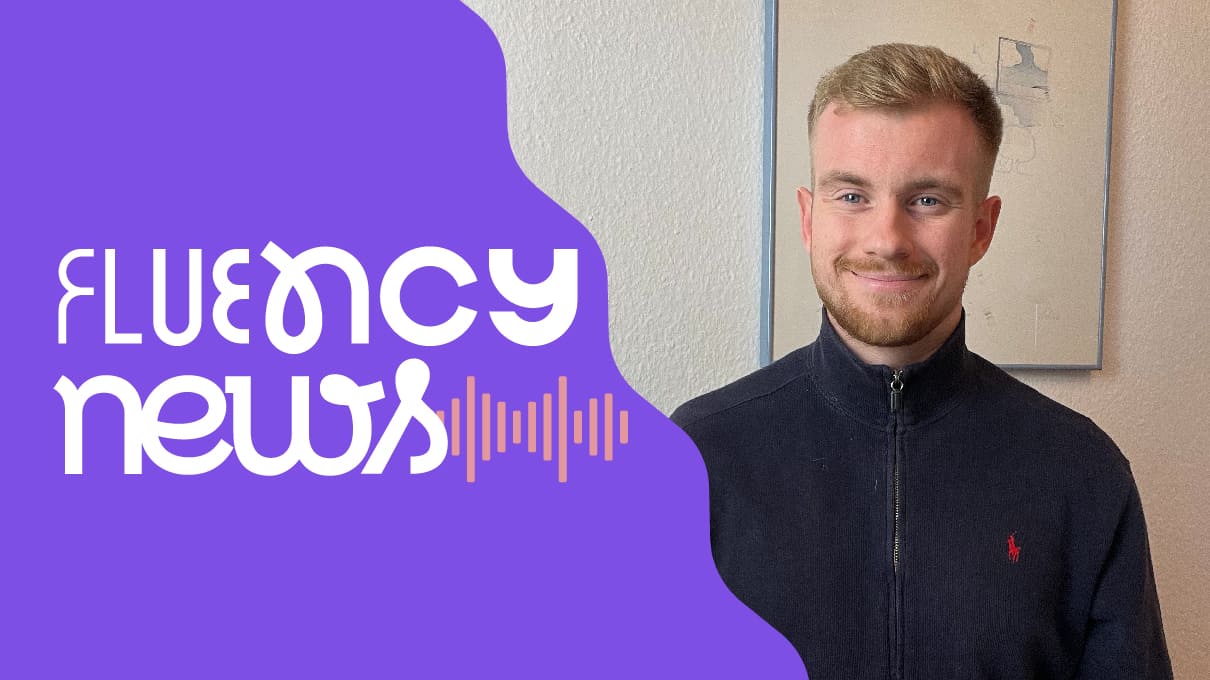 Podcast
Welcome to another episode of Fluency News!
6 minutos
Fluency English
Hello everyone!
Welcome to another episode of Fluency News! Here, you'll practice your listening and get informed on all that's happening in the world; all the major headlines of the week, all in English! During the episode, we make sure to explain the things that we believe need extra attention, so you don't miss any details!
In this episode we'll talk about entertainment news! 18-year-olds in Germany are being offered a culture pass to boost the arts sector, Twitter will begin authenticating blue, gray, and gold accounts, and the Data Protection Commission announces their decision about Facebook.
We have an Instagram page with English tips, go check it out! @fluencytvenglish
We'll have a new episode of Fluency News every week, don't forget to listen! See you!
__
Episode Transcript
Hey, everyone! I'm Benjamin Robson, the host of today's Fluency News episode. I've prepared some awesome worldwide stories, completely in English, with new expressions and tons of vocabulary, for you to practice your listening skills while being updated on what's going on all over the world.
I'm really happy and excited that you took some time out of your week to practice your English. You know that having frequent contact with the language you're learning is one of the best ways to improve and take your English to the next level, right? And besides these podcasts, the internet's best teachers and I are always preparing new content for you on our social media.
Our YouTube channel is full of new classes, tips, and great content for you to improve your English in a fun, enjoyable way. So follow us there at FluencyTV English.
Now, let's get this show on the road!
Young Germans are about to join other Europeans in being offered a voucher to spend on their choice of cultural events in a new plan launched by the government. The "Kulturpass", worth €200, will be available to all 18-year-olds with the goals of encouraging young adults in Germany to experience live culture events and drop their stay-at-home pandemic habits. Germany's secretary of culture, Claudia Roth, describes the culture pass as the "equivalent of a birthday present".
Isn't that cool? A €200 voucher to experience culture for an 18th birthday present. I wish I were turning 18 in Germany right now! So, I said before that the secretary of culture describes the culture pass as the "equivalent of a birthday present". Now, do you know the difference between a "present" and a "gift"?
"Gift" and "present" are synonymous when referring to things given to other people without expecting anything in return or compensation. So, whether you say "I gave him a gift on his birthday" or "I gave him a present on his birthday", both sentences mean the exact same thing and are grammatically acceptable.
However, the word "gift" also applies to a wider range of situations. For example, gifts can also be talents or skills: you can have the gift of writing, or a musical gift. Picasso had the gift of painting, for instance. In these cases, we don't use the word "present".
Got it? Now let's move on to our next story!
Elon Musk is one of those names that keeps coming up, and there seems to be no end to the stories about him and Twitter. This time, Elon Musk says that Twitter's checkmark program could return, with a new procedure to verify individual identities in order to handle impersonation issues. Verified check marks will also be expanded with additional colors: gold for companies, gray for the government, and the original blue for individual accounts.
Ok, let's make that story a little easier to understand. You heard me saying that "Twitter's checkmark program could return". A checkmark is a written mark like a V with the right side extended. It is used to show that something is correct or has been selected. In Twitter's case, people with verified accounts are often commonly referred to as "blue checks" because they have a blue checkmark on their accounts.
The small blue badge differentiates the celebrity's own official account from parodies, fan pages and wannabes. And now, Twitter will have other colors to differentiate individual accounts from companies and the government, too. Companies will have a gold checkmark, the government will get a gray one, and individual accounts will continue with the original blue.
Now, get ready, because our next story is a bit bizarre!
The Data Protection Commission (DPC) has announced the conclusion of their investigation of Meta Platforms Ireland Limited (MPIL), data controller of the "Facebook" social media network, and is now imposing a fine of €265 million and a range of corrective measures. The DPC began this inquiry on April 14th, 2021, following media reports about the personal data of over 530 million Facebook users being exposed online, including email addresses and mobile phone numbers.
Ok, so here we've got some interesting vocabulary to explore… "A fine of €265 million". A fine is a fee you pay when you break the law or the rules. For example, if you don't turn in the books you borrowed from the library on time, that might result in a fine. If you drive over the speed limit, you might get a fine and also some penalty points on your license. Now, a fine of €265 million to Facebook is pretty expensive, don't you think?
I also mentioned that "the DPC began this inquiry on April 14th, 2021". An inquiry means an investigation, an official process to discover information or the cause of something. In this case, they were investigating if the personal data of users was being exposed on Facebook. According to the law, personal data means any information about a person, such as their name, phone numbers, email addresses, and etc.
‍Ok, guys! That's it for this episode. Thank you for listening until the end, it was really nice to have you here today. Don't forget to follow us on our social media, @fluencytvenglish!
See you next week!
___
Stories:
Germany's 18-year-olds offered culture pass to boost arts sector
https://www.theguardian.com/world/2022/nov/15/young-germans-to-be-offered-200-culture-voucher-kulturpass?cn=DD++November+17+2022&cid=f56b9cb7cb1147c3cd38eb01c477ac3b&lt=voucher&utm_source=thenewscc&utm_medium=email&utm_campaign=referral
Twitter will begin authenticating blue, gray, and gold accounts
https://www.theverge.com/2022/11/25/23477550/twitter-manual-verification-blue-checkmark-gold-grey?utm_source=the%20news&utm_medium=newsletter&utm_campaign=26_11
Data Protection Commission announces decision in Facebook
https://www.dataprotection.ie/en/news-media/press-releases/data-protection-commission-announces-decision-in-facebook-data-scraping-inquiry?utm_source=the%20news&utm_medium=newsletter&utm_campaign=29_11