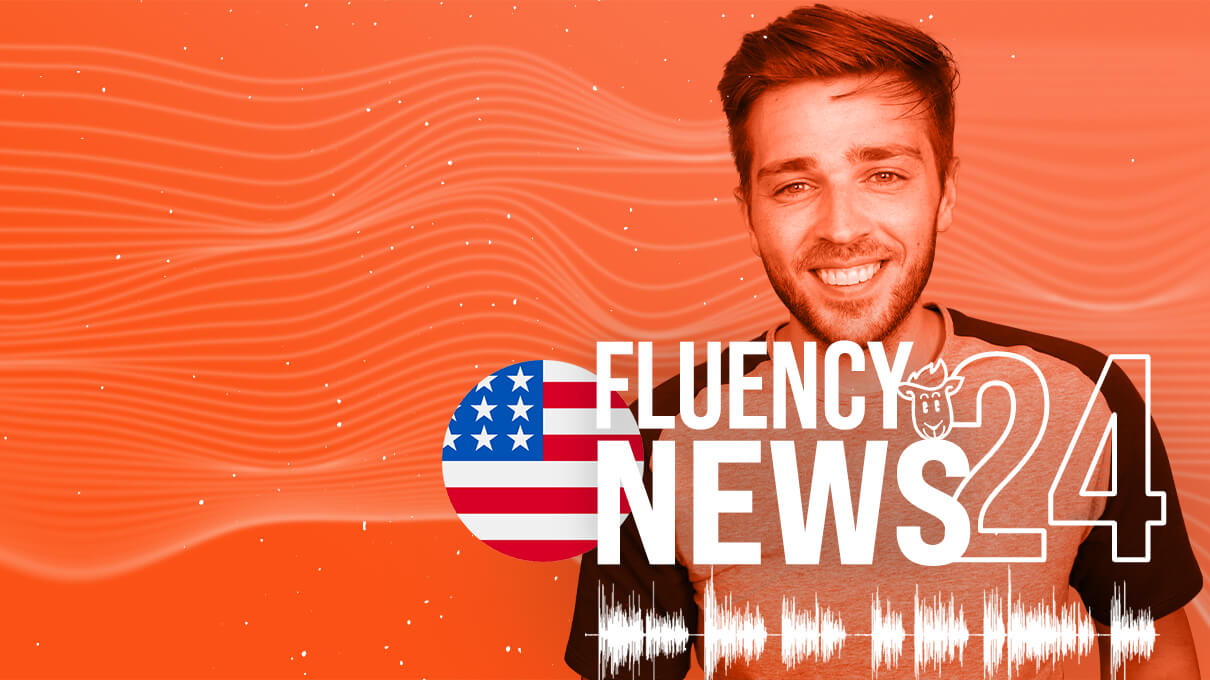 Podcast
Descubra as principais notícias da semana e pratique seu inglês com o Fluency News!
11 minutos

Scott Lowe
Hello, everyone!
Sejam bem-vindos e bem-vindas a mais um episódio da nossa nova série de podcasts, o Fluency News! Aqui, você vai treinar a sua escuta e ficar por dentro do que está acontecendo no mundo, sempre com as três principais notícias da semana, tudo em inglês! Ao longo do episódio, nós também adicionamos explicações em português das coisas que achamos que precisam de mais atenção, assim você não perde nenhum detalhe!
No episódio de hoje, nós trazemos atualizações sobre o processo de impeachment do ex-presidente Trump e os protestos em Myanmar. Nós também falamos sobre o julgamento das novas políticas de privacidade do Whatsapp na Índia, e compartilhamos algumas notícias muito boas!
Nós temos uma página de dicas de inglês no Instagram, vá conferir! @fluencytvingles
Toda semana temos um novo episódio do Fluency News, não deixe de escutar! See you!
Este episódio foi escrito por Lívia Pond.
‍
Transcrição do episódio
What is up, everyone! Welcome back to Fluency News! I'm Scott Lowe, one of your English teachers at Fluency Academy. We hope you're having a fantastic day and you're ready to put your skills to test here with me.
Before we get started, let me remind you to go over to fluencytv.com, our free content portal. It's a website filled with awesome lessons, taught by the best teachers in the world. There you'll also find the sources to this episode, and the transcript of it, so you can follow along if you need to.
Now, you probably already know how this works, right? We're going to talk about some stories that are happening around the world, and you'll hear me come in in Portuguese to expand on anything that we feel needs a more direct explanation.
Let's start this episode with the Trump impeachment update. The U.S. Senate acquitted Donald Trump on Saturday of inciting the mob that stormed the Capitol last month, sparing him from conviction in his second impeachment trial in a year despite broad condemnation of his role in sparking the deadly siege.
The Senate voted 57-43 in favor of convicting the former president, falling short of the two-thirds majority needed to do so, on a charge that he incited the insurrection that left five people dead, forced lawmakers to flee, and put his own vice president in danger while overseeing the certification of Democrat Joe Biden's election win.
Você sabe o que a palavra "acquitted" significa? Pelo contexto você deve ter entendido, mas "acquit" significa inocentar, absolver. Nesse caso, Donald Trump foi absolvido, ou inocentado, no caso contra ele.
We have a second update here, about the Myanmar story. Last week we covered what happened with the coup, and the protests in the country are still going strong. In fact, the protests have gathered supporters in other countries.
Thousands of mostly silent demonstrators paraded through central Tokyo on Sunday in protest against the coup in Myanmar, many carrying photos of detained leader Aung San Suu Kyi in what organisers said was the largest such march in Japan to date.
Protesters in Myanmar kept up demands on Monday for the release of ousted civilian leader Aung San Suu Kyi and an end to military rule despite the deployment of armoured vehicles and more soldiers on the streets.
The coup and arrest of Nobel Peace Prize winner Suu Kyi and hundreds of others have brought on the biggest protests in Myanmar in more than a decade, with hundreds of thousands denouncing the military's derailment of a tentative transition to democracy.
Livestreams shared by Myanmar media showed people gathering in different parts of Yangon, one of Myanmar's largest cities, as an Internet blackout that was enforced overnight appeared to lift.
NetBlocks, which tracks Internet disruption, said on Twitter that connectivity was being restored, but that social media remained restricted for many users. The system was shut down for eight hours.
This is still a developing story, and we don't think we'll see a definitive end to it anytime soon, but we'll keep updating you, so make sure to come back next week!
In India, Whatsapp's new privacy regulations were met with resistance from their Supreme Justice.
The Supreme Court on Monday sought WhatsApp's response on a plea seeking to restrain it from implementing its new privacy policy in the country, observing that it was the duty of the court to protect people's privacy.
"People have grave concern about their privacy. You may be a two trillion or three trillion company, but people value their privacy more…It's our duty to protect people's privacy," Chief Justice of India S A Bobde told lawyers appearing for WhatsApp and the Internet giant Facebook, which owns the instant messaging application.
The three-judge Bench headed by the CJI (Chief Justice of India) and also comprising Justices A S Bopanna and V Ramasubramanian, was hearing an application filed by two college students, Karmanya Singh Sareen and Shreya Sethi.
The court, which noted that WhatsApp's new privacy policy was being brought into effect at a time when a law on data privacy was pending the consideration of the central government, gave the parties four weeks to reply.
Amid continuing concerns over its new privacy policy, WhatsApp had clarified that the policy changes nothing for those messaging friends and family. It had also said that in some conditions, business messages can be read by Facebook, and could be used for marketing purposes.
Senior Advocates Kapil Sibal, Arvind Datar, and Mukul Rohatgi, who appeared for the social media companies, sought to deny suggestions that they were sharing the data of Indian users.
"We can swear that we neither store or share personal data. All this is a red herring", Rohatgi said. The messages are fully encrypted, and even WhatsApp can't see them, he said.
The CJI said, "People have grave apprehension about the sharing of data… We will tell you what we read in the media. People think if A messages B, then the fact that A messages B is disclosed to Facebook. People have these apprehensions."
As the counsel denied this, the CJI added, "We are telling you what we hear and read. There is a concern that the circuit of messages is revealed by WhatsApp."
Intervening, Solicitor General Tushar Mehta said: "There are national apprehensions."
Senior Advocate Shyam Divan, who appeared for the petitioners, said there was substance in the apprehensions articulated by the court. He said there was huge metadata that was being shared for the profit of the companies.
Earlier during the hearing, counsel for the technology platforms contended that the court had earlier this month asked a petitioner who had filed a similar plea to approach the High Court.
Divan then pointed out that the current application was related to a matter related to the old privacy regime of the two platforms when Facebook acquired WhatsApp, and which matter was referred to a Constitution Bench of the apex court in April 2017.
The new privacy policy announced in January has one set of privacy standards for Europe and another for India, Divan said. This, he added, comes at a time when the Personal Data Protection Bill remains pending.
The senior counsel referred to media reports that the government had sought an explanation from WhatsApp on the new policy, and added that the company itself had extended the deadline for accepting the new policy to May 15.
He said he was also praying for a direction to the Ministry of Electronics and Information Technology to ask WhatsApp to defer implementing the new privacy policy until the concerns were addressed.
Sibal said the plea lacked substantive grounds, and added that Delhi High Court was already considering similar petitions.
He said the policy was applicable to all the rest of the world except Europe, because Europe has a special law. The court asked Sibal to put what he was saying on oath.
The SG said, "Whether a law is there or not, right to privacy is a fundamental right and it cannot be infringed or violated"
Nessa história, nós ouvimos Rohatgi dizer que tudo era "red herring". Você conhece essa expressão? Traduzida literalmente, significa "arenque vermelho", mas isso não tem nada a ver com um peixe. O que significa de verdade é que algo é mentiroso, infundado, ou, mais adequadamente, significa algo que tira o foco de uma coisa mais importante, de propósito, levando à uma falsa conclusão. Interessante, né?
Let's move to some good news, shall we? We have two very positive stories for you today! First, Israel's largest healthcare provider on Sunday reported a 94% drop in symptomatic COVID-19 infections among 600,000 people who received two doses of the Pfizer's vaccine in the country's biggest study to date.
Health maintenance organization (HMO) Clalit, which covers more than half of all Israelis, said the same group was also 92% less likely to develop severe illness from the virus.
The comparison was against a group of the same size, with matching medical histories, who had not received the vaccine.
"It shows unequivocally that Pfizer's coronavirus vaccine is extremely effective in the real world a week after the second dose, just as it was found to be in the clinical study," said Ran Balicer, Clalit's chief innovation officer.
He added that the data indicates the Pfizer vaccine, which was developed in partnership with Germany's BioNTech, is even more effective two weeks or more after the second shot.
Researchers at the Weizmann Institute of Science, who have been tabulating national data, said on Sunday that a sharp decline in hospitalisation and serious illness identified earlier among the first age group to be vaccinated – aged 60 or older – was seen for the first time in those aged 55 and older.
Israel has been conducting a rapid vaccine rollout and its database offers insights into vaccine effectiveness and at what point countries might attain herd immunity.
Os idiomas estão sempre mudando e se adaptando, como uma coisa viva. Isso é bem fácil de identificar quando estamos falando de gírias e expressões populares. Mas em inglês, é possível observar isso somente usando prefixos e sufixos. Em inglês, é ṕossível criar palavras, adicionando um prefixo ou sufixo, ou os dois a uma palavra, e criar uma palavra com um significado único. A palavra "unequivocally", por exemplo, é uma palavra com um prefixo, UN, e um sufixo, LY. Ela significa inequivocamente. Você conhece alguma palavra assim? Que tal ir na nossa página do instagram, @fluencytvingles e deixar seus exemplos lá?
And, finally! People have been nicer to one another since the pandemic began, a new study has found.
A survey of 2,000 people conducted by Travelodge found that people have been more friendly to one another in the last year, have made more of an effort to stay in touch with their relatives and have donated more to food banks and other charitable organisations.
The survey also found that people have been talking to strangers more frequently and surprised friends with gifts.
The research found that one third of people believe random acts of kindness to be contagious.
Meanwhile, one in four respondents said they were inspired by the actions of the Captain Sir Tom Moore to be kinder and more generous to others, as the veteran got further recognition for his efforts in raising money for charity by his 100th birthday.
As part of the survey, Travelodge shared some of the random acts of kindness that its staff had done in recent months.
For example, one hotel manager in Milton Keynes helped a homeless person restart their life by offering them a job as a receptionist.
Meanwhile, Warrington Central Travelodge offered rooms for 40 flood victim families who were forced to evacuate their homes in the wake of Storm Christoph last month.
Shakila Ahmed, Travelodge spokeswoman, commented: "One key thing that we are experiencing across our hotels is that kindness is prevailing in these challenging and tumultuous times.
"Our research also shows that kindness is contagious and has been spreading far and wide across the UK during the Covid-19 pandemic.
"Their kindness is making a real difference to people's lives, whether it is helping flood victims, making goody bags for NHS guests or helping a homeless person with a new start in life."
Always awesome to end on a positive note, right? And, to keep being positive, head over to fluencytv.com to have access to over a thousand free lessons. It doesn't really get better than that, does it? That is it for today, folks. We have a new episode of Fluency News every week, and we'll be waiting for you. Peace out.
Sources:
Trump impeachment update
https://www.reuters.com/article/us-usa-trump-impeachment/u-s-senate-acquits-trump-as-republicans-save-him-in-impeachment-again-idUSKBN2AD0AE
https://www.reuters.com/article/us-usa-trump-impeachment-future/acquitted-again-by-senate-trump-still-a-powerful-force-in-republican-politics-idUSKBN2AE04T
https://www.theguardian.com/us-news/2021/feb/13/trump-impeachment-trial-senate-republicans
https://www.theguardian.com/us-news/2021/feb/14/donald-trump-impeachment-republican-party-cornyn-hogan-graham-mcconnell
Myanmar update
https://www.aljazeera.com/news/2021/2/15/myanmar-protests-resume-internet-restored-as-military-circles
https://www.aljazeera.com/program/start-here/2021/2/14/whats-happening-in-myanmar-start-here
https://www.reuters.com/article/us-myanmar-politics-japan-protests-idUSKBN2AE087?utm_source=reddit.com
https://www.reuters.com/article/us-myanmar-politics/hundreds-of-thousands-protest-in-myanmar-as-army-faces-crippling-mass-strike-idUSKBN2AE01U?
https://apnews.com/article/race-and-ethnicity-aung-san-suu-kyi-embassies-boycotts-myanmar-00ee31ffaa1ac204c19762e55d4707d4
People have become kinder during the coronavirus pandemic, study finds
https://www.independent.co.uk/life-style/covid-kindness-study-pandemic-nicer-b1802092.html
Israeli study finds 94% drop in symptomatic COVID-19 cases with Pfizer vaccine
https://www.reuters.com/article/us-health-coronavirus-israel-vaccine-idUSKBN2AE0Q2?utm_source=reddit.com
'Privacy more important than your money': Supreme Court issues notice to WhatsApp
https://indianexpress.com/article/india/privacy-more-important-than-money-sc-issues-notice-to-whatsapp-7189366/
‍